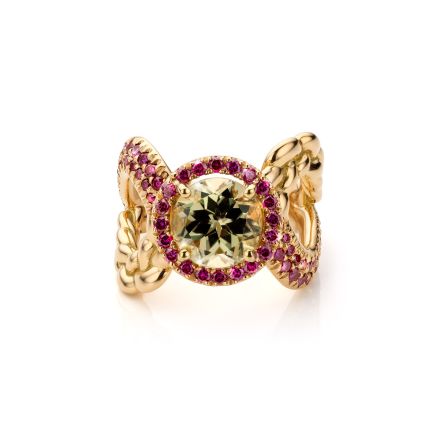 Liora
Csarite 2,4ct
Csarite 2 sidestones 0,12ct
11,9 gr mixed rosé/yellow gold 18K
VS (Brilliant) 70 Fancy deep purplish pink diamonds approx. 0,75 ct
€ 6.232,-
About Liora
Literally meaning "gift of light".
For the one who loves a brilliant creation of colours depending on the angle of exposure of light.
The name "Csarite" has been derived from the Tsars of Turkey. This gemstone is also being called as "The Sultan of Gems" .
Just 50% of the rough crystals mined are suitable for facetting, and of these 98% are lost during cutting which makes Csarite 10 000 times more rare than a diamond.
Our Csarites are exclusively handpicked for you from out the Anatolian mountains of Turkey at a height of more than 3,000 feet. No need to say this is an exceptional colour changing gemstone!
Important details
Our "Inspired by Nature Collection" counts 5 rings and only 20 pieces are manufactured from each ring worldwide.
Our logo will be handcrafted inside the ring (KRVMER) so as the number of the ring.
Reflecting your desire to feel unique, to be treated unique and to be accompanied by your ideal partner in « KRVMER »
Enjoy complimentary worldwide shipping !
Dare to be different.
#BRAIDEDFINESSE